Not all radiation therapy technologies have the same capabilities. Technological advancements have been made in the last few years that have led to improved clinical outcomes, reduced side effects, and shortened treatment times. Texas Radiotherapy utilizes state of the art technology to treat our patients. This page provides an overview of some of these technologies.
Radixact with TomoHelical®
Proven Clinical Superiority
The technology in the field of radiation therapy progressed from IMRT to VMAT (Volumetric Modulated Arc Therapy) or RapidArc in the early 2000's. With this technology, radiation is delivered using a beam that continuously rotates around the patient. The resulting plans are improved as compared to IMRT and the treatment times are shorter.  
 At Texas Radiotherapy, our linear accelerator is a Radixact from Accuray, the next generation Tomotherapy introduced in 2016. The Radixact delivers external radiation therapy in an even more advanced fashion than the VMAT / RapidArc delivered by other linear accelerators in the market. With the helical delivery of the Radixact, a patient's treatment is much more precisely delivered; high-doses are better confined to the target and dose to the surrounding normal tissues is reduced even further.
The following is a link to a clinical trial that compared Helical Tomotherapy versus RapidArc in patients with head-and-neck tumors. The study found that patients treated with Helical Tomotherapy had improved survival with less side effects than those treated with RapidArc.
Target tracking and automatic, real-time motion synchronization for the Radixact System® using Artificial Intelligence.
Real-Time Personalized Adaptive Radiotherapy Treatment Delivery
Over 15 years ago, Accuray revolutionized tumor and patient motion management with our Synchrony® real-time motion synchronization technology. With more than a decade of clinical proof behind Synchrony for the CyberKnife System, Accuray now brings Synchrony® to the Radixact® System. While others will use gating or other uncomfortable methods to try and compensate for motion, our Synchrony radiotherapy treatment planning technology actively tracks and corrects for it — automatically, continuously and in real time. This ultra-precise personalized adaptive delivery can help to improve clinical outcomes and reduce radiation therapy side effects, while potentially shortening treatment times.
ClearRT will produce clear, high-fidelity kVCT images to provide soft-tissue visualization and clinical capabilities like no other radiation therapy system in the world.
ClearRT™ helical kVCT high-fidelity imaging will enable clinicians to see more, know more, and do more:
PreciseART® Adaptive Radiation Therapy
PreciseART® makes adaptive radiotherapy simple and practical for every practice, bringing enhanced precision and continuously personalized treatments to more patients. Fully integrated daily re-imaging, patient data analysis and automated reporting empower treatment teams to continuously monitor every patient, identify patients that will benefit from re-planning and efficiently adapt plans in real time.
PreciseRTX® accelerates and automates the re-planning process to make re-treatment more efficient for practices and more effective for patients. Intelligent integration enables importation of previous treatment plan data from Accuray and non-Accuray systems, and automatically deforms previous treatment plan contours and previously delivered dose onto the new treatment planning CT image. By deforming the prior data sets, much more accurate, effective and safe retreatments are possible than with other systems that lack this capability.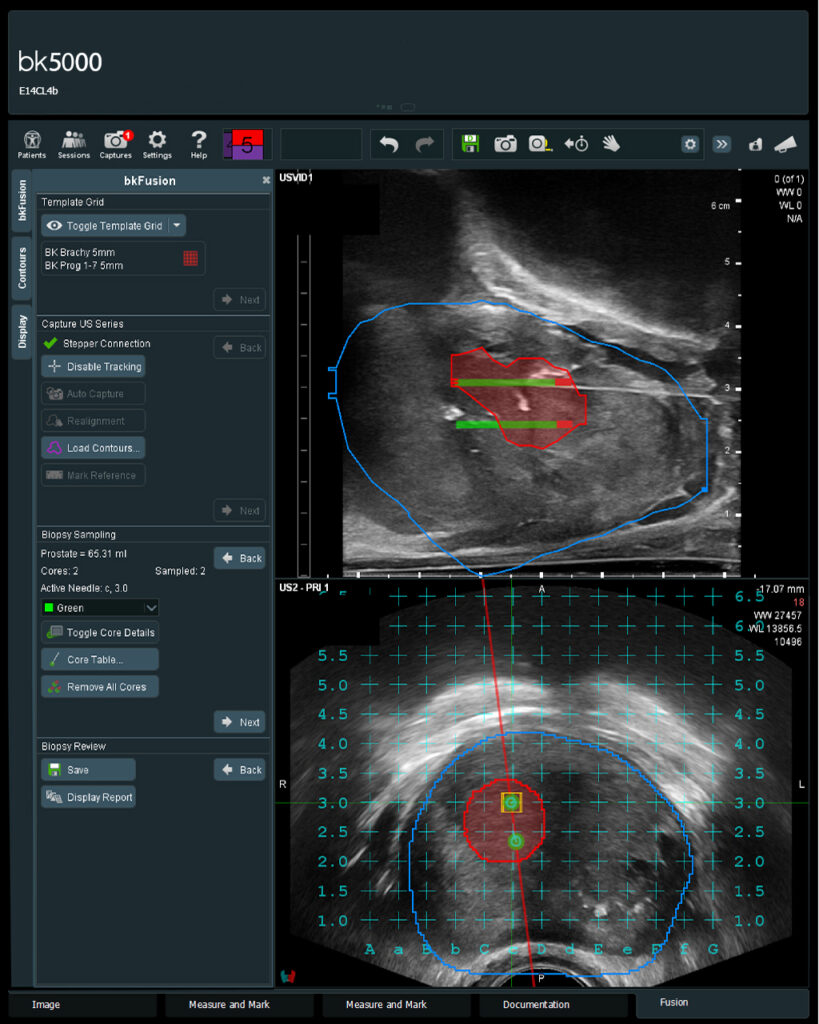 MRI-TRUS fusion Transperineal biopsy of the prostate
Transrectal ultrasound biopsies (TRUS ) of the prostate have been the most popular biopsy method in the United States to date but have several major drawbacks. TRUS prostate biopsies are associated with an up to 7% risk of a serious infection requiring hospitalization (sepsis), producing a false-negative result estimated to be as high as 35%, and over-detecting low grade tumors. Due to these drawbacks, a different approach to prostate biopsies is becoming more common throughout the world –MRI-TRUS fusion transperineal biopsy.
Texas Radiotherapy performs MRI-TRUS fusion transperineal biopsies where MRI images are fused with the TRUS  image to identify suspicious lesions for biopsy. MRI-TRUS transperineal biopsy targets specific lesions whereas TRUS uses ultrasound guidance to assist the practitioner in taking samples from multiple standard cores throughout the prostate with no specific lesion target. The MRI-TRUS fusion transperineal technique improves the accuracy of identifying high-grade tumors while minimizing the overdetection of low-grade tumors. Additionally, transperineal biopsies can reach parts of the prostate that are nearly impossible to reach during a transrectal biopsy.
During the transperineal biopsy, the needle passes from the skin below the scrotum into the prostate. Transperineal biopsies are much "cleaner" and are associated with a near zero percent chance of serious bacterial infection. Transperineal biopsies can be performed with sedation in an operating room or in the office with local anesthesia. In addition, patients report less discomfort with transperineal as opposed to transrectal biopsies.