With cancer treatment, experience matters. Along with Dr. Cavey's 15+ of experience, Texas Radiotherapy's clinical staff has over 100 years of combined experience. Texas Radiotherapy utilizes some of the most cutting-edge technologies available for cancer treatment today that improve clinical outcomes, reduce side effects, and shorten treatment times. Every patient is important to us. We strive to provide state-of-the-art care while also providing an exceptional patient experience.
Dr. Matthew Cavey, M.D. is a board-certified radiation oncologist and has been in practice in North Texas since 2006. He has extensive experience in advanced radiation therapy treatments and has helped thousands of patients beat cancer. With over fifteen years of experience, Dr. Cavey is an expert in several modalities of radiation therapy including brachytherapy, intensity modulated radiation therapy (IMRT), image guidance radiotherapy (IGRT), stereotactic body radiosurgery (SBRT), stereotactic ablative radiation (SABR), stereotactic radiosurgery (SRS), and others. Dr. Cavey has a wealth of knowledge and experience in treating a wide variety of cases. Dr. Cavey is one of the few doctors in the DFW Metroplex that regularly performs prostate seed implants (brachytherapy), which are the gold standard of treatment for prostate cancer. He was the Medical Director of the Fort Worth Cyberknife Center for over a decade and has treated over 2,000 SRS and SBRT cases. In addition, Dr. Cavey now performs MR-guided radiosurgery, the next generation of prostate brachytherapy, which has been shown to deliver even higher quality treatments. He is also certified for SpaceOAR gel application which improves sexual function and reduces rectal toxicity from prostate radiation. Dr. Cavey was the first physician in Tarrant County to be certified for SpaceOAR use and performs many cases each month.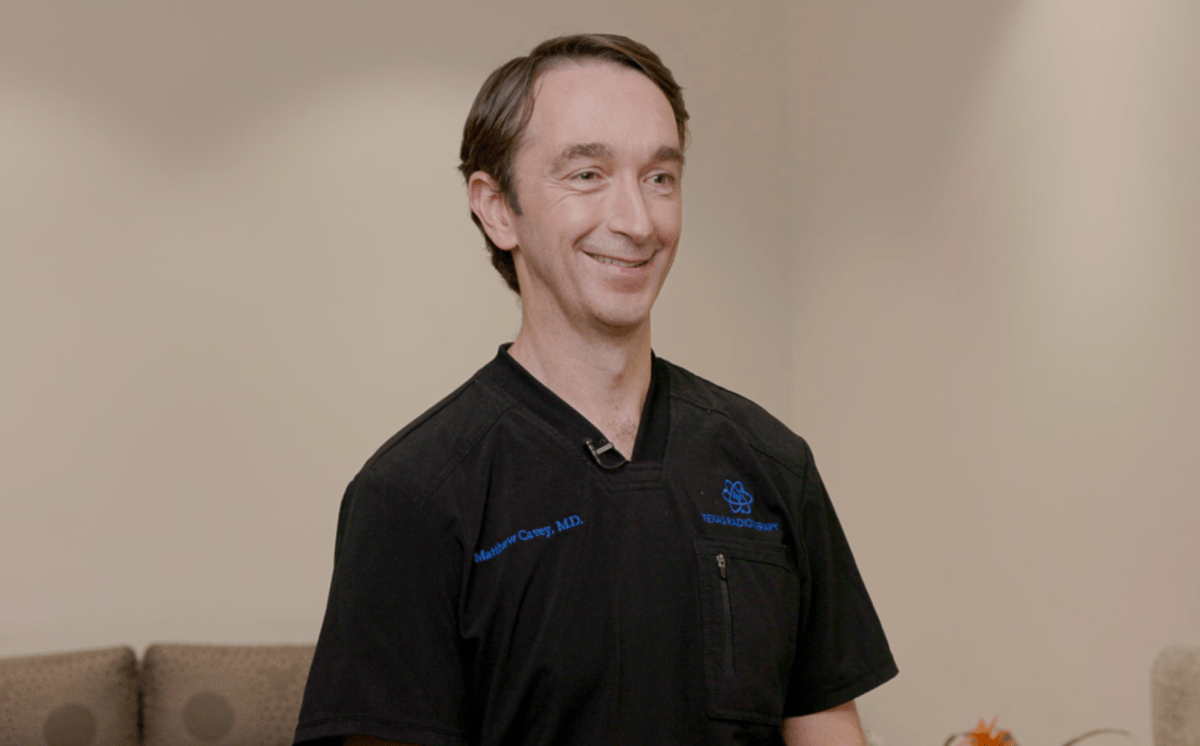 Every cancer patient has a unique set of circumstances. Dr. Cavey works with the patient's medical oncologist, surgeon, and primary care physician to provide each individual an opportunity for a cure and the highest quality of life. Dr. Cavey has been extensively involved in clinical radiation oncology research, particularly in breast and prostate cancer. He has published several articles in peer-reviewed journals and has presented at numerous national and international meetings. He was honored for his research efforts with an award from the Research and Education Foundation of the Radiological Society of North America.
I understand my patients are dealing with something very serious. Knowing I have the potential to make a dramatic impact in someone's life makes my work very special. In addition to offering the finest radiation technology available in the nation, I do my best to make sure patients have the information and understanding necessary to make the right decisions about their treatment. We are using a technology platform that provides patients direct access to me so patients can have their questions and concerns addressed conveniently and quickly.

Choose Texas Radiotherapy
The Texas Radiotherapy Difference
To provide patient centered radiation therapy through excellent quality of care and service.
Address
Texas Radiotherapy
Klabzuba Tower
1300 W. Terrell Ave., Suite Plaza
Fort Worth, TX 76104